New Castle County, Delaware Personal Injury Attorneys

Auto Accident Attorneys in New Castle County, Delaware
It takes so little for a car accident to happen.  The road may be slippery after a brief afternoon shower or a tire may blow out after driving over an unexpected branch that dropped into the roadway.  However, when the accident is caused by the negligence of a third party, it may be difficult to know what to do.  The experienced auto accident attorneys at Lundy Law can evaluate your case and discuss the legal remedies that are available to you after a serious car accident.
Drivers who share the road with you have an obligation to act reasonably with respect to other drivers. This means that they should not be texting, ignoring traffic signals, driving aggressively, or driving under the influence.  If a third party breached the duty that he owed to you while behind the wheel, then he should be held accountable for the harm that he caused.  The experienced auto accident attorneys at Lundy Law will work to ensure that justice is done.  We will review all of the evidence, interview witnesses, analyze records, and build the best possible case to help you obtain the compensation that you need to pay your bills and continue to receive necessary medical care.
Accidents happen on roadways throughout Delaware and the dedicated attorneys at Lundy Law are prepared to fight to protect your rights no matter where the event that changed your life occurred.  We represent clients throughout New Castle County, including:
Slip and Fall Accident Attorneys in New Castle County, Delaware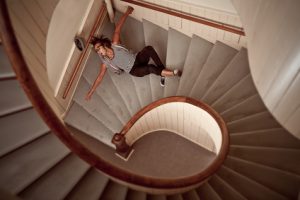 When you think of a slip and fall accident, you may have an image in your head of the hapless gentleman walking down the sidewalk and slipping on a banana peel that his arch enemy just tossed in his path.  However, the truth of these accidents that occur on any surface over which a person is expected to walk is that people are severely injured through no fault of their own.  These types of accidents can lead to traumatic brain injuries, severe neck and back damage, broken or fractured bones, and internal organ damage.  Many times a fall will require both emergency medical care and long-term treatment.  What this means for the victim is years of suffering and expense.  It is imperative to contact the personal injury attorneys at Lundy Law so that we can develop a plan that takes into account the legal realities and the needs of you and your family.  We will work with you to get the justice and the compensation that you deserve.
There are many different circumstances that can lead to terrible harm if a person with a duty to the victim acts negligently, including a pharmacy that dispenses the wrong medication or a truck company that puts a truck with faulty brakes on the road.  At Lundy Law, we take the cases where we can hold wrongdoers accountable while getting victims the help that they need.  Our personal injury cases include:
When you have been harmed because somebody else did something wrong, it is hard to know where to turn for help.  The experienced lawyers at Lundy Law are ready to discuss your case with you in a free and confidential consultation.  In order to provide the best legal representation to people who have been victimized by the a third party's negligence, we offer a No Fee Assurance, which means that we only get paid fees and costs is when we win your case for you.  To schedule a free and confidential evaluation of your case, call us at 1-800-LundyLaw, or complete a free online consultation form.
Looking for more information?
Give us a call at 1-800-LUNDY-LAW anythime you are involved in an accident at the fault of another person. We want to give you the professional guidance and help that you deseve to get through the tough time.