Pennsylvania Personal Injury Attorneys

Pennsylvania Auto Accident Attorneys
If you have been involved in a car accident, you likely have experienced the terrible emotions of the moment, followed by the inevitable questions about how you will get the care that you need and pay the bills that continue to build up.  At Lundy Law, our Pennsylvania Auto Accident Attorneys can provide you with the answers that you need while helping you find the right legal strategy to ensure that you have the ability to recover from the accident and move forward with your life.
Our Pennsylvania personal injury attorneys are ready to discuss your case in a free and confidential consultation.  Please call us at 1-800-LundyLaw today to learn more about your legal options.
As experienced auto accident attorneys in Pennsylvania, the lawyers at Lundy Law know how to prepare a case against negligent drivers so that they are forced to be responsible for the damage that they have caused.  Lundy Law works with medical and financial experts in order to build a case that demonstrates the physical trauma that you experienced and the economic toll that this has had on your life.  We are dedicated to getting the resolution that is best for you.
The experienced and knowledgeable Pennsylvania personal injury attorneys at Lundy Law represent those harmed as the result of other people's negligence throughout Pennsylvania, specifically including:
Pennsylvania Slip and Fall Accident Attorneys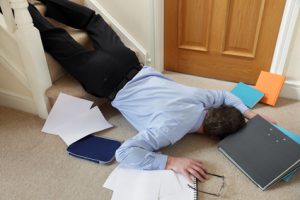 At Lundy Law, our commitment is getting justice for people who have been injured as the result of the negligence of other people.  This means that we represent victims of many different types of  accidents.  One of the most common types of harm is that experienced by a person who has slipped and fallen, or tripped and fallen, because a third-party did something wrong.  Slip and fall injuries in Pennsylvania are unfortunately all-too-common.  Whether you have walked across a parking lot and slipped on ice that was not properly cleared by the owner of the shopping center or walked across the lobby of your office building and tripped over an extension cord negligently left in the middle of a common walkway, our Pennsylvania Slip and Fall attorneys know how to gather the critical evidence, collect witness statements, and retain the experts who know how to explain the serious harm that you have suffered. We will evaluate your situation and discover the best way to get justice for you.
Our expertise in personal injury cases allows us to represent victims who have been harmed by the negligence of others under many different circumstances.  Negligence is demonstrated when a person has a duty to act in a reasonable manner towards another individual, fails in that duty, and causes actual harm as a direct result of the breach of duty.  We understand how to prove that the responsible party was negligent in causing you harm.
Other areas of practice in which Lundy Law focuses include:
The attorneys at Lundy Law understand the trauma that you have experienced and the burdens that you face as you move forward with medical treatment, rehabilitation, and decisions about what future employment is possible with the injuries you have suffered.  In order to provide access to people in need of  personal injury experts, Lundy Law has created a No Fee Assurance, in which an accident victim does not pay any fees or costs unless Lundy Law wins your case for you.  To schedule a time to speak with our Pennsylvania personal injury attorneys about your case, please call us at 1-800-LundyLaw any time, seven days a week, or complete a free online consultation form.
Looking for more information?
Give us a call at 1-800-LUNDY-LAW anythime you are involved in an accident at the fault of another person. We want to give you the professional guidance and help that you deseve to get through the tough time.