Turnersville, New Jersey Personal Injury Lawyers

The life of an innocent person can take a wrong turn in instantly when involved in an auto accident during the ordinary commute. A doctor may provide the wrong diagnosis of a condition, or you could fall down unexpectedly while out shopping. Our personal injury lawyers serving Turnersville, NJ have been handling medical malpractice cases, auto accident investigations, and the claims of slip and fall victims for more than 50 years. You do not have to feel like a helpless victim in the aftermath of these harmful situations with adequate legal help on your side.
Personal Injury Lawyers Serving Turnersville, New Jersey
Any unexpected accident has the potential to lead to overwhelming embarrassment, emotional suffering, ongoing physical pain, and the unavoidable financial struggle. Get the right help by your side by contacting our personal injury lawyers in New Jersey to make a claim against the person at-fault.
Auto Accident Lawyers Serving Turnersville, New Jersey
Most people understand that the reason traffic laws are so important is to ensure that the roadways are safe for all drivers and passengers. Unfortunately, a lack of better judgement leads to recklessness behind the wheel and an obvious neglect of common sense practices. Anytime that you are involved in an accident despite your own effort to comply with the laws, our car accident lawyers are here to offer their advice to get you on the path to compensation.
Slip and Fall Accident Lawyers Serving Turnersville, New Jersey
Any business that allows visitors on their property should take the necessary step of inspecting for hazards before allowing others to enter. Failing to take this necessary precaution may leave unnoticed problems, such as a spill on the floor or a damaged handrail. If you fall down as a result of unsafe conditions that were not clearly indicated, the accident lawyers in New Jersey recommend taking action to ensure that you are compensated financially for your pain and expenses.
Medical Malpractice Lawyers Serving Turnersville, New Jersey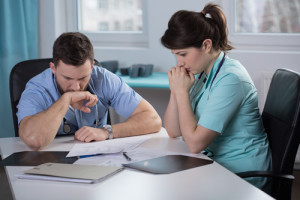 Patients under the care of a doctor should not fear poor treatment at the hands of the professional. Human error can occur, but the majority of cases that we handle involve purposeful neglect or mistreatment simply because the physician or nurse failed to pay attention. It is unacceptable to deal with the consequences of being given the wrong medication or injuries that result from accidents during surgery. These serious claims deserve the attention of injury lawyers that understand the complex process of proving wrongdoing in a medical setting.
The negligence of people and businesses lead to many different types of harm, including auto accidents and slip and fall injuries.  At Lundy Law, we represent victims who suffered devastating injuries as a result of many different wrongful acts, including:
When you have been involved in an accident, struggling through the day is a challenge without having to worry about how the bills are going to get paid and what impact your injuries are going to have on your family.  Lundy Law has been removing the burden of dealing with the legal matters from victims for nearly fifty years.  We are skilled at evaluating what happened at an accident site and developing the best strategy for you and your loved ones.  In order to remove the worry of how to pay for our services, we have created the No Fee Assurance where you do not pay unless we win your case for you.  To schedule a free and confidential consultation, please call us at 1-800-LundyLaw or complete a free online consultation form.
Looking for more information?
Give us a call at 1-800-LUNDY-LAW anythime you are involved in an accident at the fault of another person. We want to give you the professional guidance and help that you deseve to get through the tough time.