Jenkintown, Pennsylvania Personal Injury Lawyers

For over 50 years, we have been providing legal counsel and representation to Jenkintown, PA residents that are victimized in accidents. If you were involved in an auto accident on your way to work, it's important that you understand your rights to compensate lost wages, doctor fees, and damage to your vehicle. The first call you should make is to our team of injury lawyers to make sure you're represented from the first day.
Lundy Law's dedicated team of accident lawyers in Pennsylvania are always ready to take a call to handle a complex slip and fall accident or filing a complicated disability claim. No matter what reason you have for needing a personal injury attorney, we are not afraid of standing up for justice.
Personal Injury Lawyers serving Jenkintown, Pennsylvania
There are plenty of scenarios that are best handled with the expertise of our personal injury lawyers. We work from scratch to gather evidence at the scene, interview any witnesses, and do anything necessary to prove that you are owed compensation for any related expenses. Victims are able to turn to our injury lawyers to answer any questions and provide advice on their situation.
Auto Accident Lawyers serving Jenkintown, Pennsylvania
There are avoidable collisions every single day due to drunk drivers, law violations, and simply not paying attention to the road. A common mistake is to deal directly with the insurance companies rather than seek the guidance of an actual auto accident attorney. Whenever you're struck by one of these drivers, you can count on our accident lawyers in Jenkintown, Pennsylvania to work on your case for fair compensation so that you're able to focus on recovery.
Slip and Fall Accident Lawyers serving Jenkintown, Pennsylvania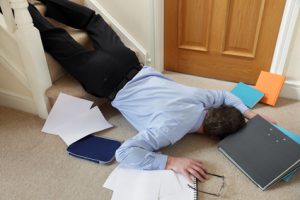 There is an inherent responsibility of anyone that owns a piece of commercial or residential property to conduct regular safety inspections. A failure to provide adequate lighting, appropriate safety features, and warning of any hazards is a case that our slip and fall accident attorneys want to fight for you.
Medical Malpractice Lawyers serving Jenkintown, Pennsylvania
There is no excuse for any professional in the healthcare field to cause a patient injury, illness, or other serious complication. A mistake with prescriptions or failure to treat safely are reasons that you need to contact our personal injury lawyer in Pennsylvania to get started working on a case for your compensation. The expertise and experience of the Lundy Law medical malpractice attorney is exactly what you need for the best chance at pursuing money for lost wages, suffering, and medical expenses related to the incident.
Other Practice Areas in Jenkintown, PA
Our attorneys represent clients injured in other types of cases, including:
If you are the victim of someone else's negligence, the Personal Injury Attorneys at Lundy Law want to help you get your life back to normal. Our proven track record of success speaks for itself when we say we provide excellent legal services for our clients.  Call us today at 1-800-LundyLaw for a consultation.
Looking for more information?
Give us a call at 1-800-LUNDY-LAW anythime you are involved in an accident at the fault of another person. We want to give you the professional guidance and help that you deseve to get through the tough time.