Warminster, PA Personal Injury Attorneys
If you end up with a serious injury in the aftermath of an auto accident in Warminster, PA, you need to speak with one of our attorneys. No case is too difficult, even if you were involved in a complicated slip and fall accident on the property of a friend.
We have decades of experience helping hurt victims get the settlement they need to overcome such a difficult event. Otherwise, you would be left to deal with major expenses that most people cannot afford, especially if you can't continue to work. Our experienced personal injury attorneys will help you submit a disability claim and take legal action against the person responsible for your pain and suffering.
Personal Injury Attorneys Serving Warminster, PA
Sudden expenses are a major burden if you don't have a considerable amount of money saved up for such an event. Luckily, if you get the assistance of our personal injury lawyers in Pennsylvania, you will get the help you need to get a settlement from the entity responsible for your accident. We will ensure that you feel confident and informed throughout your case until everything has been settled.
Auto Accident Attorneys Serving Warminster, PA
Having an insurance policy on your vehicle should make you feel protected in the event of an accident, but most people have greater needs than their coverage provides.
If you were not at fault for the collision, our auto accident lawyers in Pennsylvania can get you more than an insurance company. We will take the time to figure out how much money you truly need and fight hard to make sure that you get a settlement.
Slip and Fall Accident Attorneys Serving Warminster, PA
Anytime you fall down and get hurt, it is important to really think about the situation before you blame yourself. If you are away from home and the conditions were unsafe, it might be possible to get a financial settlement to cover the expenses related to your injuries. Talk to our attorneys about your situation so that you understand your rights following a slip and fall accident.
Medical Malpractice Attorneys Serving Warminster, PA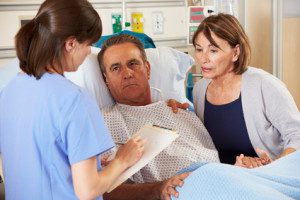 A lot of different things can go wrong when you are trusting someone else to take care of your health needs. If a professional has caused you to suffer serious consequences due to their own negligence, an injury lawyer in Pennsylvania is here to advise you. It might not be the easiest option, but you need to understand that you have a right to take action against improper care.
Although slip and fall cases and auto accidents lead to many of the injuries suffered by victims in the Tri-State Area, there are many other actions and situations that lead to personal harm and Lundy Law represents victims in these additional areas of practice, including:
Give us a call at 1-800-LundyLaw anytime you are involved in an accident at the fault of another person. We want to give you the professional guidance and help that you deserve to get through the tough time.