Ocean County, New Jersey Personal Injury Attorneys

Ocean County New Jersey Auto Accident Attorneys
After a car accident, there are many things that have to happen.  It is necessary to get medical attention for you and anybody in the car with you, the police need to be called so that there is an official report of the accident, the contact information for the other driver and any witnesses should be gathered, and pictures of the accident should be taken, if possible.  However, after this has been done, the next thing should be to contact an experienced auto accident attorney.
Immediately after an accident, the insurance company representative for the negligent driver will try to pressure you into a quick settlement.  Often, this happens before you even have a chance to completely understand the extent of your injuries.  The lawyers at Lundy Law know how to deal with the other driver's attorney and can explain to you how to prove the elements of negligence.  Our skilled personal injury attorneys also can explain how to prove that the other negligently caused the accident and evaluate your case.  We know that you have many questions and we will provide you with answers as well as the legal options that you may have.
As experienced personal injury attorneys, the attorneys at Lundy Law are committed to working for you in order to get you justice and the compensation that you need to continue to recover from your accident.  We have offices in New Jersey to make it convenient for the victims of negligence to get the legal help that they need.  We represent clients throughout Ocean County, including:
Barnegat
Beach Haven
Beachwood
Island Heights
Lakehurst
Lavallette
Manahawkin
Ocean Gate
Pine Beach
Point Pleasant
Seaside Heights
Surf City
Toms River
Slip and Fall Accident Attorneys in Ocean County, New Jersey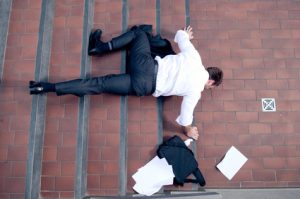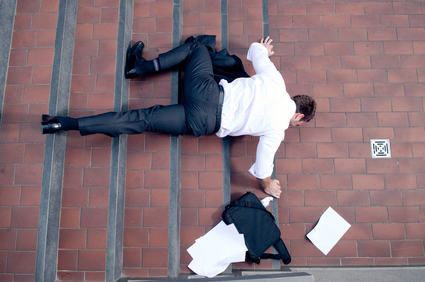 Although people are injured in car accidents every day, there also are thousands of injuries from slip and fall accidents.  These accidents happen when there is a hazard on a surface over which it is expected that people will walk.  Although they typically are referred to as "slip and fall" accidents, these types of cases may include tripping over something, including loose tiles, protruding carpeting, improperly secured extension cords, or any other hazard that a reasonable owner or manager would have corrected.  There are different elements that must be proven in a slip and fall case, including that the owner had a duty to the person who was injured, that duty was breached, and the breach was the actual cause of a verifiable injury.  Therefore, if you were in a place where you were, or should have been, expected to be and fell and were injured as the result of a hazard that could have been remedied, you may have a case.  Our experienced personal injury attorneys will discuss what happened to you and provide an evaluation about possible legal remedies that you could pursue.
There are many different types of personal injury matters that involve a breach of duty, including: 
When you have been harmed as the result of the actions of another person, you may have questions about what can be done to hold them accountable for the harm that you experienced.  The skilled personal injury attorneys at Lundy Law can provide that answers that you seek through a comprehensive case evaluation.  In order to offer these services to everyone in need of them, Lundy Law offers the No Fee Assurance, where we do not get paid unless we win your case.  To schedule a free and confidential evaluation of your case, call us at or 1-800-LundyLaw, or complete a free online consultation form.
Looking for more information?
Give us a call at 1-800-LUNDY-LAW anythime you are involved in an accident at the fault of another person. We want to give you the professional guidance and help that you deseve to get through the tough time.