Multi-State Automobile Accident Attorneys Explore Head-On Car Crashes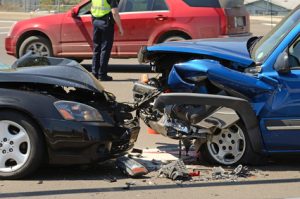 Head on collisions are perhaps the most violent of all car accidents. When two vehicles traveling at opposite directions hit each other head on, the force experienced by both vehicles is tremendous. Head on collisions account for 18 percent of all fatal accidents but only two percent of all accidents. Those involved in a head on accident will often experience severe and sometimes permanent accidents.
Recently, in Pennsylvania, four teenagers were killed in a fiery head on crash that left one vehicle upside down and another split in two. Just days ago, another head on crashed claimed the lives of a woman in Somerset County, New Jersey. Two other individuals were injured in the crash.
Causes of Head On Accidents
The majority of head on collisions occur when two vehicles traveling in opposite directions collide with one another. However, head on accidents can also occur when one vehicle strikes a fixed object, such as a telephone pole, tree, or fence. Negligence is the number one cause of head on accidents.
Some scenarios that frequently give rise to head on accidents include:
Speeding
Driving around a corner at high speed
Driving while intoxicated or drugged
Passing when it is not safe to do so
Failure to follow road signs
Tired driving, including falling asleep behind the wheel
Tire blowouts
Low visibility due to poor weather conditions
Obstacles on the road, including debris, animals, or pedestrians
Injuries Arising from Head On Collisions
The severity of a head on accident victim's injuries will depend upon a number of factors, including the speed involved in the crash, the individual's position in the car, and much more. Generally, head on accidents will result in serious injuries to those involved. Some of the most common injuries sustained by head on accident victims include:
Broken bones
Lacerations
Whiplash
Head injury
Neck injury
Back injury, including lower, middle, and upper back
Spinal cord damage
Paralysis
Brain injury
Burns
Death
When a large vehicle or truck is involved in the head on accident, the chances of permanent injuries or death become even greater. The force of massive tractor trailer will often crush the smaller passenger vehicle, trapping victims inside or killing them instantly.
Those involved in a head on accident should retain the assistance of an experienced automobile accident attorney as soon as possible. The victims of such crashes may be eligible to receive compensation from the negligent, at fault driver. Compensation could include coverage for medical bills, lost wages, pain and suffering, permanent disability, rehabilitation, and more. It is important that you act fast following the accident so that vital evidence can be collected to assist your later case. Through your quick action, you can fully protect your legal rights following your serious head on accident.
Lundy Law: Experienced Representation for Automobile Accident Victims in Pennsylvania, New Jersey, and Delaware
The Automobile Accident Attorneys at Lundy Law urge anyone who has been involved in a car accident in Pennsylvania, New Jersey, or Delaware to contact our office. Our award winning and experienced team of motor vehicle accident attorneys will examine the facts of your accident and determine whether negligence was involved. Head on accidents often involve serious injuries and even death. Our skilled auto accident attorneys have represented countless head on accident victims, achieving phenomenal results for our injured clients and the families of deceased loved ones. To schedule a consultation with one of our exemplary car accident lawyers, call Lundy Law today at 1 (800) LUNDYLAW®.