Head On Collision Attorneys

Head-on collisions are the most dangerous of all types of highway accident and they occur with more frequency than most people believe.
In 2013, there were almost 4,000 head on collisions in Pennsylvania and 120 people died, representing ten percent of vehicle deaths in the state. Statistics for New Jersey and Delaware were similar with hundreds of drivers and occupants becoming fatalities on roadways due to head on collisions.
Head On Collision Car Accidents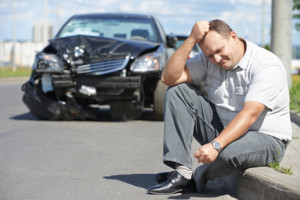 According to experts and head on collision lawyers, these types of accidents are more likely to occur on rural, two-lane roads than on urban, multi-lane highways. It may appear as if the higher incidence of head-on collisions in rural areas may be due to improper passing maneuvers, when, in fact, statistics show that the majority of accidents on rural roads are in non-passing incidents.
Instead, the majority of head-on crashes occur when a driver makes an unintentional maneuver, such as falling asleep, being distracted or traveling too fast. In addition, head-on collisions do not always involve two vehicles. A head-on collision may also occur when a driver strikes an object with the front-end of the vehicle, such as a tree, utility pole or guardrail.
Negligent Causes of Head-On Collision Accidents
Many times, head-on collisions occur due to the negligence of the driver. The driver may be under the influence of alcohol or may not have had adequate rest the night before the crash. Some of the many negligent causes for head-on collisions include:
Speeding
Driving around a corner at high speed
Driving while intoxicated or drugged
Passing when it is not safe to do so
Failure to follow road signs
Tired driving, including falling asleep behind the wheel
Tire blowouts
Low visibility due to poor weather conditions
Obstacles on the road, including debris, animals, or pedestrians
Injuries Resulting from Head On Collisions
Many emergency personnel may tell you that head-on collisions cause some of the most severe injuries. Injury severity will be based on several factors, including the speed the vehicle or vehicles are traveling and where the person was sitting in the vehicle, just to name a few. Some of the most common injuries sustained by drivers and passengers in a vehicle involved in a head-on collision include:
Broken bones
Lacerations
Whiplash
Head injury
Neck injury
Back injury, including lower, middle, and upper back
Spinal cord damage
Paralysis
Brain injury
Burns
Death
Involved In A Head On Collision? Contact Us Today
If you or a loved one have suffered injury in a head-on crash, or if a loved one has died of injuries sustained in such a crash, you need to speak to our auto accident lawyers.
You can reach us through our simple to complete query form online or give us a call at 1-800-Lundy Law to learn whether you have a personal injury or wrongful death claim. We can guide you through the entire process and help you get the compensation you deserve.