Horsham, Pennsylvania Personal Injury Attorneys

Our team of Personal Injury Attorneys, serving residents in and around Horsham, Pennsylvania, have won millions of dollars in settlements and judgments on behalf of injured clients.  In the 50 years that the firm has been in existence, we have gained a solid reputation for going to bat for victims of various types of accidents. We represent victims of various types of personal injury accidents:
Auto Accident Attorneys in Horsham, Pennsylvania
Our Auto Accident Lawyers serving Horsham, Pennsylvania provide legal representation to many victims of car crashes caused by a driver's negligence.  If you have been injured in a car accident, our team will thoroughly investigate the underlying facts of your case, review police reports, and interview witnesses to determine if you have the basis for a claim. If there is a legal basis, our attorneys can then assist you in filing a claim with the insurance company and obtaining a settlement to cover lost wages, medical bills, and other types of damages. If your insurance claim is denied, we can provide legal counsel as to your other options. We will pursue your rights to the fullest extent the law will allow.
Motorcycle Accident Attorneys in Horsham, Pennsylvania
Our Motorcycle Accident Attorneys serving Horsham, PA can assist you if you are a motorcyclist injured by another's negligence, or if you were injured by a motorcycle. You may have sustained spinal cord or brain injuries, broken bones, or internal injuries.  Without the finances to pay medical bills and compensate you for lost wages, you will have a very difficult time resuming a normal life.  Our team can help provide the legal help you need to make a full recovery.
Truck Accident Attorneys in Horsham, Pennsylvania
Annually, trucks comprise 8 percent of highway traffic nationwide but are involved in 11 percent of fatal crashes.  Truck Accidents are also the cause of many physical injuries. Whether you were the driver of the truck, or were injured by a truck, our Truck Accident Attorneys in Horsham, PA can help you in preparing and pursuing your insurance claim, arriving at a settlement with the insurance company, or suing to obtain the just result you deserve.
Other Vehicle Accidents
We also handle the claims of individuals hurt in other kinds of vehicle accidents, including: 
bus accidents
pedestrian accidents
bicycle accidents
Slip and Fall Injuries in Horsham, Pennsylvania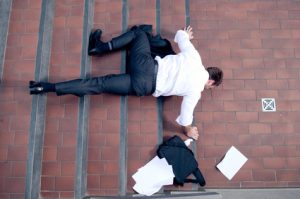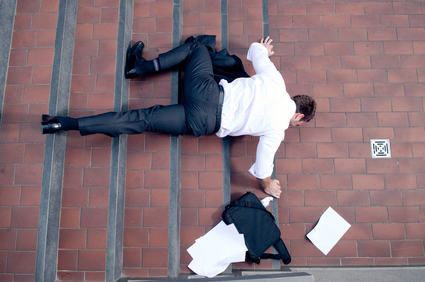 Our Slip and Fall Injury Attorneys serving Horsham, Pennsylvania assist clients who have been physically hurt on someone else's property.  The types of defects that can serve as the basis for these Premises Liability claims include slippery floors, torn carpeting, parking lot potholes, obstructions in walkways, broken steps or platforms, unmarked changes in elevation, and inadequate lighting. Slip and fall injuries can wreak havoc on your ability to function normally.  Our lawyers can help bring your life back to normal, as we have for many other people in your situation.
Other Practice Areas in Horsham, PA
Our attorneys also handle other kinds of personal injury cases in Horsham, PA, including: 
The Personal Injury Attorneys at Lundy Law understand that the difference between living a life hampered by an injury and overcoming that injury in order to achieve wholeness is having the legal counsel necessary to recover damages.  We have a proven track record of success in all kinds of accident claims. We pledge to continue to provide excellent legal services on behalf of our clients.  Call us today at 1-800-LundyLaw for a consultation.
Looking for more information?
Give us a call at 1-800-LUNDY-LAW anythime you are involved in an accident at the fault of another person. We want to give you the professional guidance and help that you deseve to get through the tough time.