Personal Injury Attorneys in Fort Washington, Pennsylvania

For the more than 50 years that Lundy Law has been in existence, our Personal Injury Attorneys have gained the reputation of putting their clients' needs and interests first. As a result, we have won hundreds of millions of dollars in settlements and jury verdicts on their behalf. Our practice spans a wide variety of accident cases.
Motor Vehicle Accident Attorneys in Fort Washington, Pennsylvania

If you have suffered physical harm in a car crash that was caused by a driver's negligence, our Auto Accident Attorneys can assist you in obtaining compensation to pay for medical bills, lost wages, and other types of damages, including pain and suffering. Traffic accidents are usually caused by drunk or distracted drivers. Our team will assess the underlying facts of your case to determine whether the operator of the vehicle engaged in any kind of negligent behavior.
Motorcycle Accident Attorneys in Fort Washington, PA
If you are a motorcyclist and have been injured by another's negligence, our Motorcycle Accident Lawyers in Fort Washington, PA can help you navigate through the insurance claims process, decide whether to accept an insurance company's offer, and pursue your rights if your claim is denied.
Truck Accident Attorneys in Fort Washington, PA
Our Truck Accident Attorneys in Fort Washington, PA can provide legal guidance to you whether you were the driver of the truck or were hit by it. Trucks accidents are responsible for causing 4,500 deaths per year. Many injuries also result from these incidents. We can help you obtain the award you need to put you back on your feet again, physically as well as financially.
Other Vehicle Accidents
In addition, we handle the claims of individuals who have been injured in other types of vehicle-related incidents, helping them obtain financial compensation for their injuries. Some of these other accident types are bus accidents, boating accidents, hit and run accidents, pedestrian accidents, and bicycle accidents.
Slip and Fall Accident Attorneys Serving Fort Washington, Pennsylvania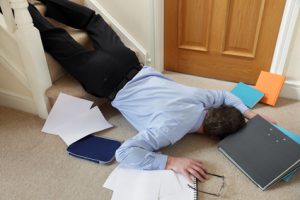 If you have suffered a slip and fall on someone else's property, our Slip and Fall Injury can assist you in obtaining a settlement or judgment to compensate you for your injuries. We have handled many such cases successfully. If the property owner was negligent in the manner in which he maintained the premises, failing to remedy defects such as torn carpeting, potholes in the parking lot, or broken steps, you may be able to successfully win a Premises Liability claim against the owner or the insurance company.
Other Practice Areas in Fort Washington, PA
Lundy Law in Fort Washington, Pennsylvania also handles other types of personal injury claims, including:
Regardless of the kind of injury you have suffered in Fort Washington, Pennsylvania, our Personal Injury Lawyers have the legal knowledge and experience necessary to prepare, negotiate, settle, and, if necessary, litigate your case successfully. Don't allow your quality of life to be compromised by the actions of another. While we cannot guarantee a particular result in an individual case, we pledge to do our utmost in providing excellent legal services for our clients. Call us today at 1-800-LundyLaw for a consultation.
Looking for more information?
Give us a call at 1-800-LUNDY-LAW anythime you are involved in an accident at the fault of another person. We want to give you the professional guidance and help that you deseve to get through the tough time.