Personal Injury Attorneys Serving West Grove
We are always eager to make a difference when lives are impacted negatively by a severe slip and fall accident. Especially when its due to the neglectful and dangerous actions of irresponsible individuals. If an auto accident victim is left with permanent damage that makes it impossible to go back to work, we will make every effort to make sure they get the compensation they deserve. There is no case to complicated for out professionals to handle, and we are always willing to help those that have no other place to turn.
Personal Injury Attorneys Serving West Grove
There are a lot of different types of cases that our personal injury lawyer in Pennsylvania covers to help victims get experienced legal help. No matter what circumstances have left you with a serious injury, we will take on the burden of proving fault so that you can win a settlement. It's our duty as an injury lawyer in Pennsylvania to evaluate all of your related expenses so that your family is not faced with unfair financial hardships at the fault of another person.
Auto Accident Attorneys Serving West Grove
The first place that most people think to turn after a car accident is the insurance company that they pay for coverage each month. However, your best chance at getting a suitable settlement comes from the decision to contact our accident lawyers in Pennsylvania. An insurance claim might cover part of the expenses, but you will usually find that ongoing medical treatment and vehicle repairs cost much more than you are given. Our knowledgeable auto accident attorney is going to look at the big picture and make sure that every little expense is covered in the settlement.
Slip and Fall Accident Attorneys Serving West Grove
The experienced slip and fall accident attorneys with Lundy Law advises that all victims make their claim as soon as they are injured. This provides enough opportunity to prove that conditions were unsafe so that we can start building the case against the person responsible for your accident. Our injury lawyers in Pennsylvania must be sure that you did not contribute to the incident so that you can recovery enough money to pay for medical bills and other expenses.
Medical Malpractice Attorneys Serving West Grove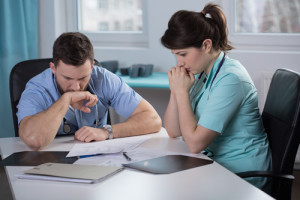 Inadequate treatment caused by neglect or a misdiagnosis is not a situation that any patient deserves to go through. You have certain rights that a medical malpractice attorney will explain if you decide to move forward filing a claim. A personal injury attorney will look into your records and provide an opportunity to get compensation for any emotional trauma and injuries that you have unfairly endured.
Workers' Compensation Attorneys Serving West Grove
An employer takes on a lot of responsibility over the safety of their employees while they are on the clock. If you ever have an injury caused by a lack of safety while you are working, you need to contact our accident lawyers in Pennsylvania. Our workers' compensation lawyers will take on the responsibility of investigating the incident to ensure that you are compensated adequately and treated fairly by your employer.
Although slip and fall cases and auto accidents lead to many of the injuries suffered by victims in the Tri-State Area, there are many other actions and situations that lead to personal harm and Lundy Law represents victims in these additional areas of practice, including:
Give us a call at 1-800-LundyLaw anytime you are involved in an accident at the fault of another person. We want to give you the professional guidance and help that you deserve to get through the tough time.