Personal Injury Attorneys Serving Thorndale, PA

Suffering an injury due to the negligence or carelessness of someone else can be devastating. Our Thorndale, Pennsylvania personal injury attorneys have seen people with injuries that mean they cannot work, whose families are suffering not only because they see a loved one in pain, but because the accident has wreaked havoc with their finances.
An auto accident may mean that the family has no means of transportation. A slip and fall accident could mean a loved one is unable to walk or perform their daily activities, including cooking, cleaning or bathing. Filing a disability claim can be frustrating, time-consuming and confusing. All of these factors are why you should contact Lundy Law to guide you through this difficult process.
Personal Injury Attorneys Serving Thorndale, PA
Lundy Law has extensive experience helping people who have been injured due to the carelessness, recklessness or error of another person. An injury where someone else is at fault can cause more than physical problems, but can also cause emotional problems as well. You may develop fear that the accident could happen again. Many people who suffer devastating personal injury suffer from depression because they can no longer perform activities they used to do with ease.
Lundy Law can help you get the compensation you deserve. The compensation may include lost wages, medical bill payment and could even include pain and suffering for the mental anguish you developed.
Auto Accident Attorneys Serving Thorndale, PA
Finding fault in auto accidents can be difficult. If you have been injured in an auto accident that you believe is the fault of the other driver, you need to contact our attorneys. The insurance company for the other driver will attempt to settle with you quickly and will even tell you that you don't need an attorney. The fact is that they do not work for you. They work for the other driver and are not looking out for your best interest.
Hiring an attorney does not mean you are planning to sue the other driver. It just means that you are looking out for your interests. Lundy Law is here to help guide you through the process and deal with insurance companies so you can focus on healing.
Slip and Fall Accident Attorneys Serving Thorndale, PA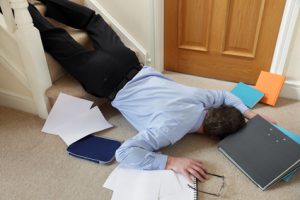 Slips and falls can happen anywhere and can be caused by any number of things. There may be a broken tile on a floor, loose carpet on a stairway, ice on a sidewalk. Although slip and fall accidents sound minor, they can lead to very serious injuries, including broken bones, torn ligaments and head trauma. To make matters worse, the slip and fall accident may have been caused by the negligence or carelessness of someone else.
Contact Lundy Law if you have suffered injury after a slip and fall to see if you may have a personal injury claim that would compensate you for lost wages, medical bills as well as pain and suffering.
Medical Malpractice Attorneys Serving Thorndale, PA
As hard as they try, medical professionals make mistakes in their job just like everyone else. The problem is that their mistakes can be devastating, leading to further illness, injury or even death. When an error by a medical professional causes you harm, you may have a medical malpractice claim. Whether it is a medication error, diagnosis error or the healthcare professional made a mistake, you may be eligible for compensation for your injury. Contact Lundy Law to learn what steps you should take in your claim.
Although slip and fall cases and auto accidents lead to many of the injuries suffered by victims in the Tri-State Area, there are many other actions and situations that lead to personal harm and Lundy Law represents victims in these additional areas of practice, including:
If you or a loved one has suffered a personal injury due to an auto accident, slip and fall, medical malpractice or other personal injury, or if you have been injured on the job, contact Lundy Law today to learn what rights you may have. You can arrange for your initial consultation by calling 1-800-Lundy Law or completing the simple online form on our website.
Looking for more information?
Give us a call at 1-800-LUNDY-LAW anythime you are involved in an accident at the fault of another person. We want to give you the professional guidance and help that you deseve to get through the tough time.