Hit and Run Accident Lawyers in Pennsylvania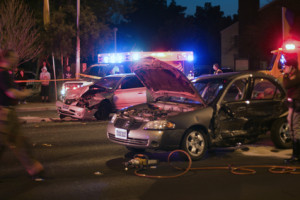 The state law in Pennsylvania requires that anyone involved in a motor vehicle accident must stop at the scene, even if the other vehicle owner is not present. It's important to exchange necessary information or at least leave a note with the empty vehicle if you cannot locate the owner.
Accidents must be reported to the police, and medical help should be called if there is a chance that anyone in either vehicle is injured. The same rules apply in instances involving a collision with a pedestrian or bicycle rider. Never make the snap decision to leave just because you assume the accident was too minor to cause any real harm or property damage. Any person that leaves the scene of an accident can find themselves in serious legal trouble, ranging from a traffic ticket to a felony charge.
Causes of Hit and Run Accidents in Philadelphia
Pedestrians on foot, bicycle riders, and motorcycle accident victims may become hurt by individuals that flee because they do not realize they have hit another person.
A driver that is uninsured, unlicensed, intoxicated, or has illegal drugs in their possession may leave the scene of a car accident to avoid trouble with the police.
An immature person, someone with a stolen vehicle, or already on the run from police may leave the scene of a car or truck accident.
Dealing With Your Insurance Company after a Hit and Run accident in Philadelphia
Most policies cover uninsured motorists for this type of incident so that you have some type of help. The first call that you should make is to the local police to report as much information about the accident and other driver as you can. Try to pay attention to the appearance of the other car and driver if you are able to see them leaving the scene of an accident. If you left your car parked and realize that it has been hit by another driver, you still need to file a report. The official police documentation may be required by your insurance company to process a claim. Get in touch with a representative to file an accident report as soon as you have the opportunity.
When Should I Contact My Lawyer?
Once your statement is documented by the insurance company and police, an attorney should be hired on the spot if you are a victim of a hit and run. It is a very confusing, upsetting, and scary situation to find yourself in without the help of a caring professional offering their guidance. You still have certain rights as an individual, even if you do not know the identity of the other driver.
If another driver has left the scene of a car crash, you are urged to give us a call so that we can help you get the settlement you deserve.
Looking for more information?
Give us a call at 1-800-LUNDY-LAW anythime you are involved in an accident at the fault of another person. We want to give you the professional guidance and help that you deseve to get through the tough time.